---
Ouruhia plant nursery ltd
---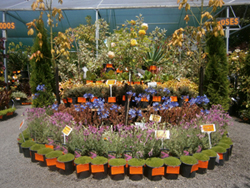 ---
Ouruhia Nursery on Marshlands Road is a family owned grower, retail plant nursery. Established in 1989 by Steve and Jen Macann, specialising in all areas of landscape planting. We grow approximately 70% of our plants onsite at Ouruhia, so we know that our stock is hardy and ideal for our environment.
We have an enormous range of stock to cover all of your landscape plant requirements, including fruit trees, citrus, berry fruit, specimen trees, topiary, hedging, natives, exoctics and loads more. You name it, and there is a very high chance that we will have it.
If not, we will source the plants for you.
At Ouruhia, we pride ourselves on knowledge and have a very dedicated and informative team that can help you with your planting needs. It's all about getting the right plants in the right places, if you have an area of garden that is needing attention, we will be able to give you a varierty of ideas and options on how to plant it out.
We are open 7 days a week from 8:30am - 5pm, so come on in and see us, we look forward to seeing you!
From the team at Ouruhia Nursery